I wasted SO MUCH MONEY in my early days buying canine fitness equipment or human alternatives that were cheap, but not all that useful… Or worse… downright dangerous! So in an effort to help other dog / handler teams learn from my mistakes,I have compiled a list of options in this Canine Fitness Equipment: Cheat Sheet! Sometimes it's important to splurge a bit on some pieces of equipment. Other times the cheap option works just fine! Learn which is which below.
NOTE: Some of the included links are Amazon affiliate links. This means I receive a small portion of the proceeds from the sale (but it doesn't cost you anything). I would never recommend anything I wouldn't use myself. Thanks for your support!!
1. Stable Canine Fitness Equipment
The most useful pieces of canine fitness equipment are going to be stable platforms. We use these to ensure proper placement of the dog's feet to promote proper alignment. They also help inform the dog where their feet will be moving next. Stable surfaces make up the majority of the equipment used in the Canine Conditioning Coach programs. Remember, Stable before Unstable. We always want to build proficiency on stable equipment before moving to unstable equipment.
Canine Fitness Platforms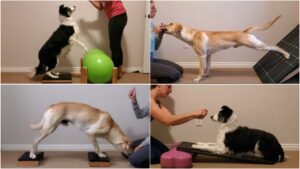 Sitting Platforms, Standing Platforms, and Foot Targets are all relatively easy DIY if you are even a little bit handy and so inclined. I wrote a 3 part blog post on that to help walk you through the process of measuring for and building these platforms step by step. Part 1 can be seen in my blog post Platforms in Canine Fitness. Parts 2 and 3 can be accessed easily from there.
Alternatively, if you're not into that, there are a few boutique manufacturers who can build platforms for you. These platforms are custom fit the size of your pup, and are small, personally run businesses.
Canada & US: Can purchase from Wiggle Butts (a Canada based company)

Australia: Can purchase from the Quilted Monkey

UK: Can purchase from Sarah's Dog Training Creations Sarah also builds some other cool things like rubberized foot targets and other amazing stuff. So if you're in the UK, definitely check her out!!

Germany & Europe: Can purchase from Nova-Toolz . These are beautifully crafted hand made, rubber topped platforms. I just love this design!!
Cato Board, Wobble Board or Large Square Platform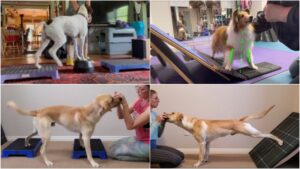 This will mainly be used as foot targets, to adjust prop height or propped against the wall at a 45° angle. So you could definitely build this out of plywood. Or if you wanted to purchase something vs DIY I would recommend a Cato Board. I use these all the time with my own dogs, and find them incredibly durable / high quality, as well as versatile. I prefer the option with the rubber top. You may like to purchase 2 (they are very handy), but it's unlikely you'll need more than 2 for conditioning purposes.
Klimb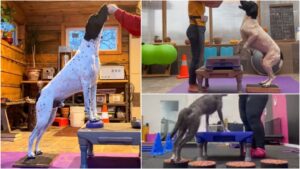 This piece is to act as an elevated stable surface the front feet can be placed on. Klimbs are a bit pricey, so generally this option is recommended for those teams who already have purchased this piece of equipment (if they already have it, they might as well use it), but I will include a link anyways just in case. They are very well made and last forever. Jamie Popper is  also a small business owner, who is ethical and a generally kind human (in case that matters). A Klimb is a good investment, but may not be in the budget, so I will offer a few alternatives below.
NOTE: Because of the materials used to make the Klimb both durable and light weight, you will need to modify the top surface to make it non-slip. I recommend the Gator Grip Traction Tape listed below.
2. Household items as Canine Fitness Equipment
Stable Platforms come in many disguises!! There are a lot of household items that can be used as DIY canine fitness equipment. Listed below are several options that can provide safe and cost effective alternatives to the pricier dog specific stuff.
Plyo Box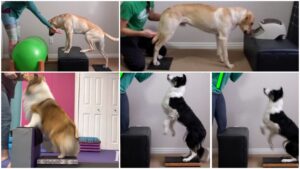 A Plyo Box is a cost effective alternative to the Klimb that can be used as an elevated front foot target. I like this option because it is affordable, and the box itself has an adjustable height (depending on which side faces up). In general, we want the tallest height to be the height of your pup's withers or back area. So if from the floor to the height of your dog's back they measure 16″, you'll want the tallest side of the plyo box to be 16″, or close to. If your pup falls between sizes, choose the smaller of the two. This is the brand I like because it's sturdy, relatively inexpensive and easy to assemble. You will need to add grip tape, a yoga mat or rubber matting to the surface of this piece as well.
Alternatively, if you are very handy, there are tons of tutorials on YouTube that detail how to build these yourself out of a single piece of plywood. So that's always an option.
Rubber Feed Bowls
Another very useful, and inexpensive piece of stable canine fitness equipment I use a LOT are Rubber Feed Bowls. I use these often as stable foot targets, stacked on top of a stable prop like a Plyo Box to adjust the prop height ratio slightly, or placed under stable platforms to raise the height of the platforms off the ground. There are endless uses for this piece of DIY Canine Fitness Equipment. I really prefer the Fortex Brand, which is much sturdier than many other brands I have tried (also they are a family owned business). I have four of the 4 quart size, and four of the 2 quart size, and would never need more than that. If trying to keep expenses lower, two of the 4 quart size will give you a ton of options.
Step Stool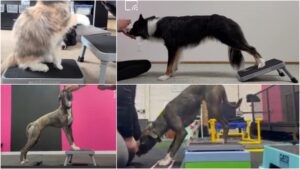 Lisa Petterson with LP Canine Fitness, a fellow CPCFT turned me on to this type of Step Stool. It can be used as a low platform when the legs are folded in, an angled platform when 2 legs are extended, and a raised platform when all 4 legs are extended… Making it a very useful and easily modifiable piece of canine fitness equipment.
3. Unstable Canine Fitness Equipment
Keep in mind, the vast majority of canine fitness equipment you will be using are stable surfaces. As you progress through the more foundation and beginner work into the intermediate and advanced work, you may like to incorporate some inflatables. Below are listed several options that I have personally tested, or my colleagues have tested.
NOTE: I wasted a LOT of money trying to buy cheaper stuff that in hindsight was slippery, poorly made or unsuitable for canines. Please learn from my mistakes and stick to the options listed below. OR if you have stumbled on a great option that is not listed, drop me a comment, and I will update the list so others can benefit!!
Propel Air Platform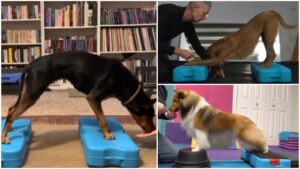 If I could only purchase one single piece of canine fitness equipment the Propel Air Platform would be the one. Not only are they incredibly versatile, they are SAFE. The construction of the Propel Air eliminates the rolling risk inherent in other inflatables like the FitBone. You can see more in my Propel Air Platform: Product Review blog post.
PawPods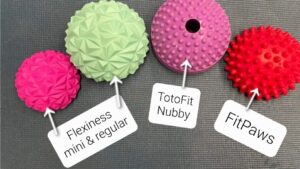 This is one place you DO NOT want to cheep out. The vast majority of pods available online are way too slippery, way to spiky and will cause you and your pup TONS of frustration. Please learn from my mistakes with this one.
TotoFit: My personal recommendation for the PawPods is TotoFit Brand. This is what I use for my own dogs. I like these over other options because of how stable they are with their interface with the floor. The construction of these pods is also very different from other brands, as they have a vertical support structure to prevent the bottom from 'poofing out'. This makes learning the PawPod exercises safer, and much less frustrating. This IS a place where a splurge on the slightly more expensive option will really pay off.

Flexiness: Alternatively, the Flexiness Brand makes great dog specific pods as well. I don't personally have these (because I love the TotoFit so much), but a lot of my clients and colleagues have them and really like them. Clean Run may offer free shipping in the US. And Flexiness offers a smaller size which is nice for smaller dogs.

BOSU: BOSU Pods are also really fantastic, although they are quite unstable (but very stable in their interface with the floor).

Generic Human: I also found a Generic Flexiness alternative that I purchased myself to test. They worked really well for both my Border Collie and Labrador. The upside of choosing these are the are SUPER INEXPENSIVE!!! You get 9 pods for just over $30 USD!! The downside is they are quite large. So smaller dogs may have to place both front / rear feet on a single pod, which may be a bit challenging.

FitPaws: Lastly, I would definitely steer clear of the FitPaws brand pods. I found them very slippery, the nubs unnecessarily pokey, and my dogs (who are usually ok with everything underfoot) did not like them at all. This of course is my personal opinion based on my own experience.
BOSU Ball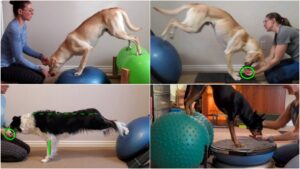 The BOSU Ball is actually a piece of human fitness equipment that is incredibly useful for canines. BOSU actually stands for BOth Sides Up. So the BOSU is really 2 pieces of canine fitness equipment in one. With the soft side up, the BOSU ball is a compliant surface with a completely stable base. I love using the BOSU this way, as I know the base will not move, flip, or tip at all. With the hard side up the surface is stable, and the base is VERY unstable, and is a suitable instability for highly advances dogs. I also use the BOSU ball propped on a 45° (against a sitting platform or Cato board) in place of a peanut in a lot of instances.
Wedge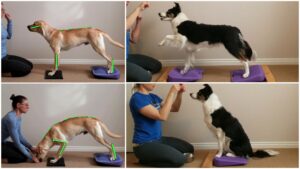 TotoFit Wedge: I personally prefer the wedge over the inflatable discs when considering low / entry level inflatables. The base itself is flat, making the interface with the ground more stable, and less likely to slip. I personally own the TotoFit Brand wedge and like it a lot. I think it's especially nice for puppies and older dogs because the fall risk is almost zero.

Human alternative Wedge: Alternatively, if you are outside the US, or TotoFit is out of stock, the human alternative is very similar. While some people say the texture of the material is slightly different between the TotoFit Brand and the human alternative, I haven't found the difference to be that noticeable in the case of this particular piece of equipment. So this would be a place where cutting costs may be appropriate.
Balance Pads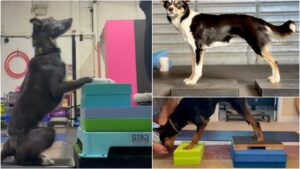 Balance Pads are a great way to incorporate instability safely, and I MUCH prefer this option over a traditional disc. It has a different surface instability than the wedge, because it's closed cell foam vs a traditional inflatable, and it is completely stable in the interface with the ground. An added bonus is that the top surface is flat vs curved like a traditional disc. Unlike the Propel Air Platform, there is no forward / backward oscillation. So for dogs that are wary of things moving under their feet this is a good option. Another great feature of the Balance Pad is they are light, and can be easily stacked to adjust the prop height ratio. There are also a variety of size and 'squishiness" options available so you can customize to the needs of your individual dog.
Peanut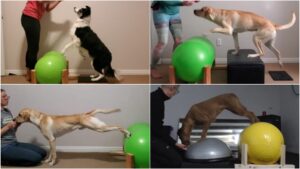 These are the Peanuts I use with my own dogs, and have had this pair for over 7 years. This particular brand is burst resistant, meaning if it is punctured somehow, it will not pop like a balloon, leaving your pup to crash to the floor. Instead it will just deflate. So while it's not ideal to have a peanut be punctured while your pup is on it, the anti-burst feature is a must. Typical dog specific peanuts are HUGE, and are intended to have the dog stand with all 4 feet on 1 peanut. I don't have the space to store a huge peanut or the desire to spend that much money on a single piece of canine fitness equipment… So if I want all 4 feet on the peanut, I use 2 smaller peanuts pushed together.
4. Extraneous Canine Fitness Equipment and Other Useful Stuff
This following items didn't fit well into any of the above categories. So I made them their own grouping!
Cavaletti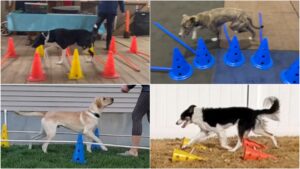 Cavaletti are optional in all of my programs, as not all dog/handler teams have the indoor or outdoor space available to use them. If you are lucky enough to have that type of space available, I purchase wooden dowel bars from my local hardware store in 1/2″ or 3/4″ diameter, and Cones with Holes from Amazon. You definitely won't need more cones than what is shown in the listing (I usually use between 14 and 20 cones for 7-10 poles)… But the option with less cones is more expensive. I have had this set of cones for 7 years. They live outside in the elements of the high desert (snow, sun, rain, heat), and are a bit faded… but have not become brittle or lost integrity.
Grip Tape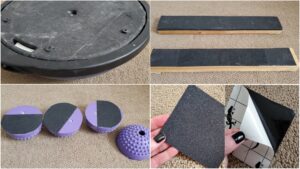 All canine fitness equipment should be non-slip. The covering that is the easiest to apply, gives the best traction, is incredibly durable, and very easy to apply is Gator Grip Traction Tape. Gator Grip is a great choice for improving the coefficient of friction on the top and / or bottom surfaces of your platforms, peanut holders, and even your paw pods! It's easy to cut with regular scissors, is peel and stick, and I have found this specific brand to hold its adhesion very, very well on a variety of surfaces.
Rubber Stall Matting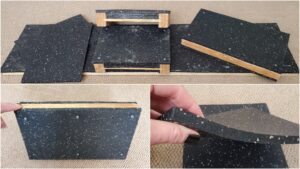 Rubber Stall Matting is not the most inexpensive option. But it is a great option for dogs that are more sensitive to rough textures, or for dogs with very sensitive skin that abraids easily. I was able to get some remnant pieces for free from a local flooring store (YAY) but this is also a reasonably priced source. There are multiple different size options available from this store… So you should be able to find an option that meets your needs. Also, it should be noted this material is easy cut with a regular utility knife / box cutter, and I affixed it to my platforms with screws, so I could avoid the use of adhesive.
Meditation Bench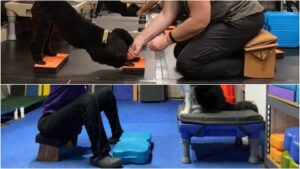 For handlers who have a hard time sitting on the floor, or once down, have a hard time getting back up, this Meditation Bench is really useful. The rocking base allows the handler to easily change their handler position to indicate forward / backward movement. Ican be used in the more traditional kneeling position, feet flat position (both shown above) or in a cross legged position. Sometimes we need a little help too!!
5. Summary:
So that's my master list!
There are lots of options to help you source the canine fitness equipment you need.
Sometimes it's good to DIY, and other times its nice to purchase pre-made.
There are a variety of price points available.
Some equipment is OK to go cheap, but other stuff really matters.
There are lots of  household items that can be used as canine fitness equipment!
Have something you've found super useful that you don't see on the list? OR do you own a boutique canine fitness equipment company? Drop me a comment below, and I'll see about getting your suggestion added!!