Who it's for
Sport dogs or working dogs over 8 months old
Length of Program
Multiple tracks spanning 3 months to 1 year
Cost
Official CCC Sport Dog Program
$249 for a year of access
What's Included
★JUST ADDED★
CUSTOMIZABLE Warm-Up / Cool Down
Two formats available.
One for digital download to your phone for quick and easy access.
Another formatted for printing and binding.
BOTH are included!!

42 Circuits
3 Tracks

Comprehensive
Zone Focus
Skill Focus

67 Video Tutorials
194 Pages of instruction
PDF Download of all Circuits
Premium Features including

Priority Support
Save videos to Favorites
PDF Download of individual video pages

Everything your Sport Dog could need for formal conditioning.
Access to all relevant information for 1 year
Equipment Needed
2-4 Sitting Platforms
Plyo Box or Klimb
Standing Platform
4 PawPods » TotoFit is preferred
4 Rubber feed bowls or similar stable platforms
2 Propel Air Platforms » 2 discs or 2 FitBones can be substituted
6-10 Cavaletti Poles
BOSU Ball » Optional
Cato Board, wobble board or large stable platform » Optional
Peanut + Holder » Optional
Program Description:
The Sport Dog Program is specially designed to prepare the canine body for the demands inherent in high impact sports like agility, flyball, bite sports, dock diving, man trailing, disc and various coursing sports.  This program contains a progression of exercises from Beginner level to Expert+, includes strength, stability and mobility components and proprioceptive challenges that mimic the demands inherent in high impact sports.
Implementing sport specific conditioning exercises not only helps improve strength and stability in the areas needed to impact performance and prevent injury, but it also allows your pup to reherse and refine the mechanics needed in your sport in a more mindful / low arousal setting.
Like humans, dogs are "handed", and often have a preference for bending or turning in one direction over the other. Formal conditioning has a significant impact on coordination, footwork and understanding… especially when executed on the dog's non-dominant side. So along with training the body, we're also taking the time to train the mind.
I have organized the material into three different Tracks so it can be applied in a variety of ways to meet your dog's specific needs. This is detailed below.
If you're unsure if this is the right program for your pup or your goals, we can always schedule a FREE 30 min Video Consult to go over things face-to-face.
NOTE: Dog / handler teams who have completed the Puppy or Beginner Program will be well prepared for the physical and mental challenges of the Sport Dog Program. Teams experienced with formal conditioning can begin with this program, but some remedial work may be necessary in order to guarentee proper alignment and muscle recruitment.
Explanation of Tracks included in this Program
The Sport Dog Program offers 3 different ways to approach the material depending on the individual dog's needs and the goals of the dog/handler team.
Comprehensive Track
The Comprehensive Track is a total body, balanced workout that combines strength, balance and mobility training. It can be used independently, or after any of the Zone or Skill specific tracks. The Comprehensive Track is intended to build fitness that lasts, and to maintain that fitness long term.
This Map shows the Track's Progression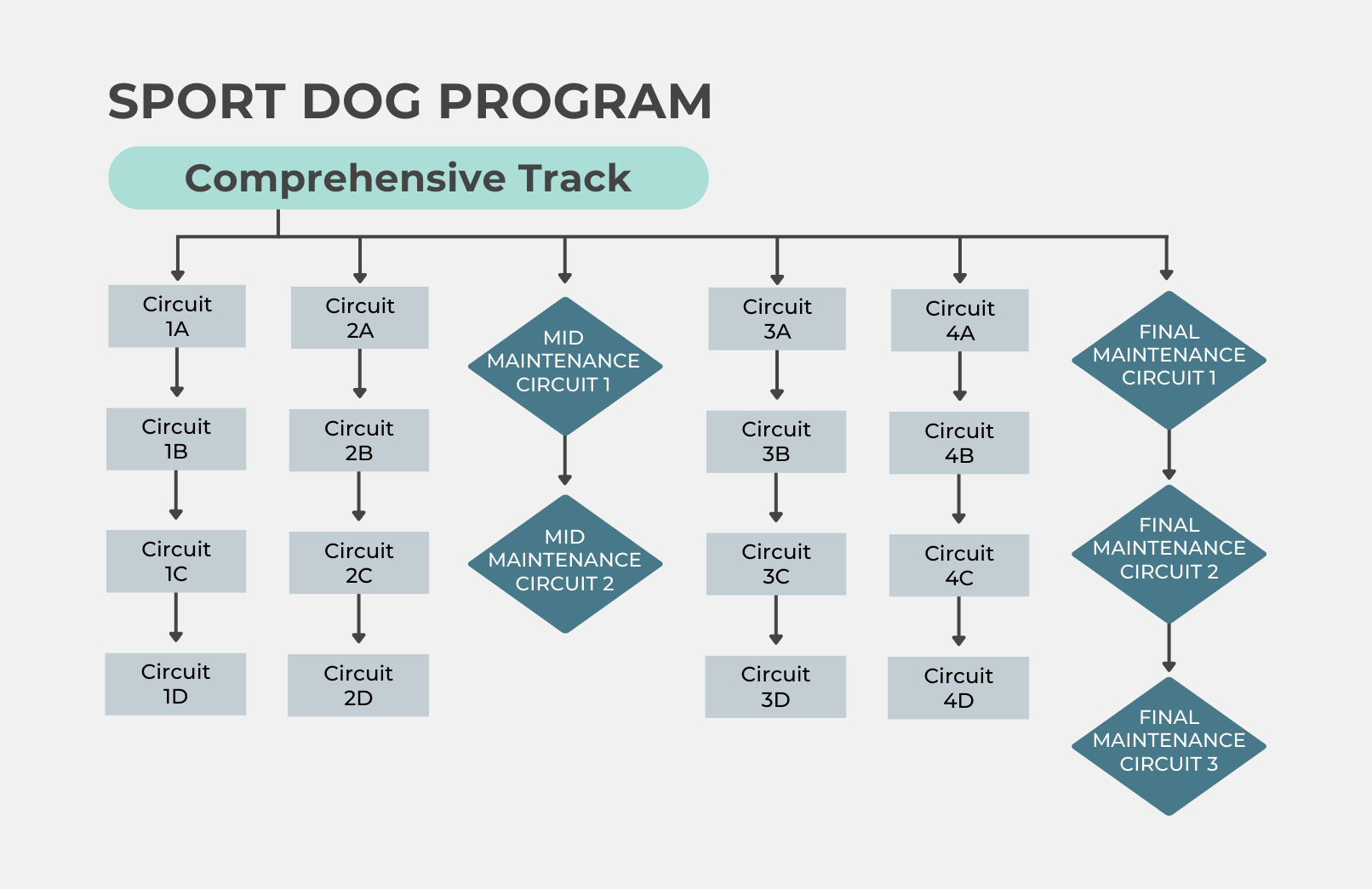 Zone Focus Track
The Zone Focus Track targets specific areas that might be weak in an individual pup like the core, shoulders, hips and feet. You can use this track to improve muscle imbalances, teach proper alignment, and rebalance the body. Muscle balance is especially important for sport & working dogs
This Map shows the Track's Progression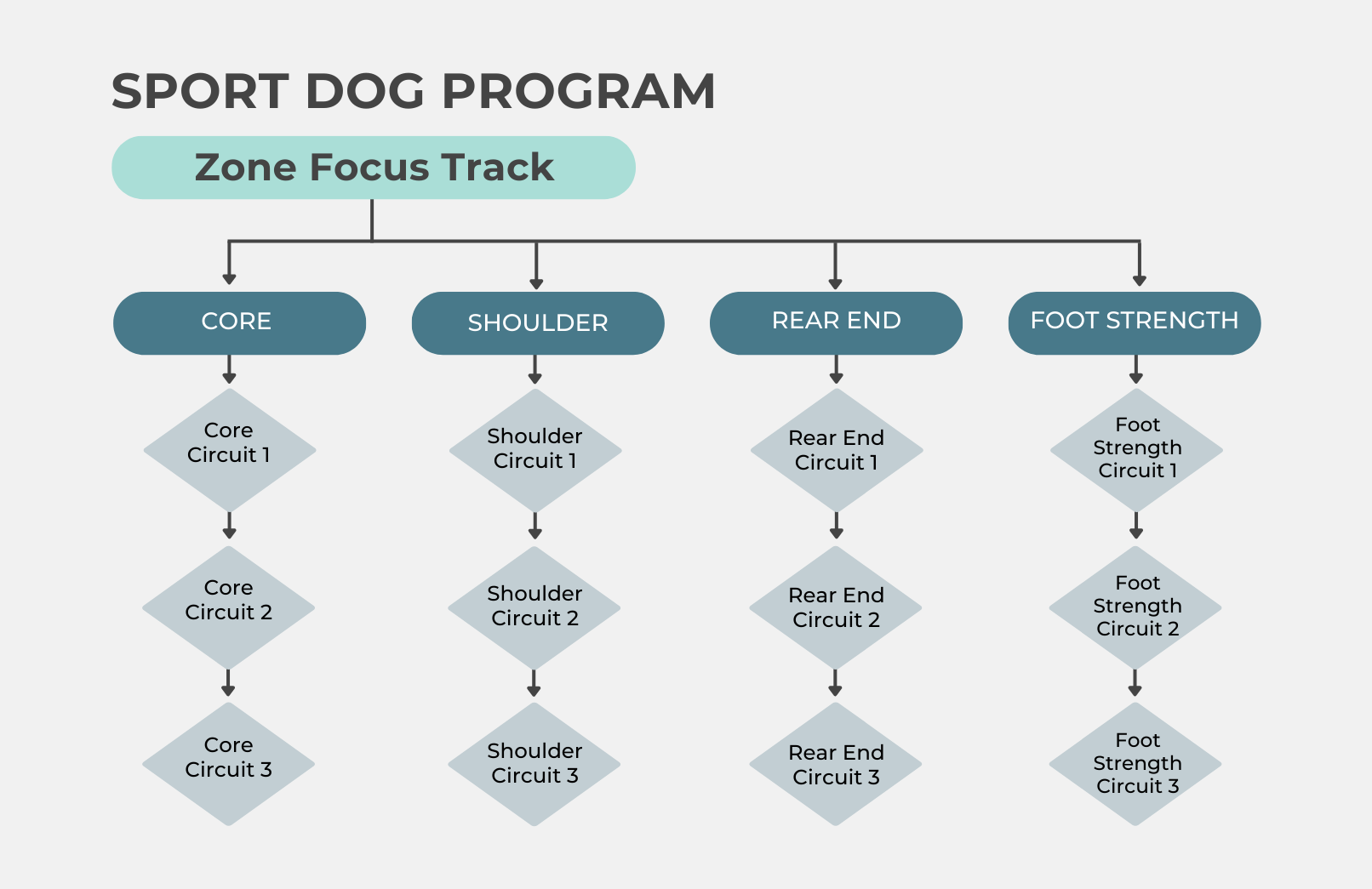 Skill Focus Track
The Skill Focus Track has an emphasis on coordination, and aims to mimic sport specific movements like turning, collection and extension. Train the brain as well as the body in a controlled, low arousal setting, away from the ring, to fast-track skill improvement, and reduce frustration.
This Map shows the Track's Progression
Sport Dog Exercise Circuits