Who it's for
Dog/handler teams not competing in high impact sports.
Length of Program
Multiple tracks ranging from 2 months to 9 months.
Cost
Official CCC Strong Dog Program 
$199 USD for a year of access.
What's Included
34 Circuits
3 Tracks.

Boredom Buster
Time Saver
Zone Focus

43 Video Tutorials
137 Pages of instruction total
PDF Download of all Circuits
Premium Features including

Priority Support
Save videos to Favorites
PDF Download of individual video pages

Access to all relavent information for 1 year
Equipment Needed
2 Sitting Platforms
1 Plyo Box or Klimb
1 Standing Platform
2 thin non-slip foot targets
4 PawPods » TotoFit is preferred
4 rubber feed bowls or similar stable platforms
Cato Board, wobble board or large stable platform
2 Propel Air Platforms » 2 discs or 2 FitBones can be substituted
Set of 6-10 Cavaletti » Optional but recommended
2 Large-ish traffic cones or similar pilons » Optional
Program Description:
The Strong Dog Program is specially designed to meet the needs of dogs living an active lifestyle and having a good time with life, but not competing in high impact sports.  This program contains a progression of exercises from Beginner level to Advanced, with a sprinkling of Expert level here and there. It includes strength, stability and mobility components and proprioceptive challenges as well as a focus on enrichment and relationship building.
I have organized the material into three different Tracks so it can be applied in a variety of ways to meet your dog's specific needs. This is detailed below.
If you're interested in improving coordination, strength and mobility, adding enrichment, boosting mental focus, and building a Strong Dog, without the need for high impact training, this Program was designed just for you!!
Dog / handler teams who have completed the Puppy or Beginner Program will be well prepared for the physical and mental challenges of the Strong Dog Program. Teams experienced with formal conditioning can begin with this program, but some remedial work may be necessary in order to guarentee proper alignment and muscle recruitment.
If you're unsure if this is the right program for your pup or your goals, we can always schedule a FREE 30 min Video Consult to go over things face-to-face.
Explanation of  Tracks included in this Program
The Strong Dog Program offers 3 different ways to approach the material depending on the individual dog's needs and the goals of the dog/handler team.
Boredom Buster Track
The Boredom Buster Track mixes things up so you and your pup are exposed to a variety of exercises, without having to repeat things over and over again. This approach keeps canine conditioning interesting, enriching and fresh for everyone involved. Each workout is split into two mini-circuits to be executed in an alternating pattern. When your pup reaches fluency in 2–4 weeks, the next circuit has brand new exercises to explore and master.
This Map shows the Track's Progression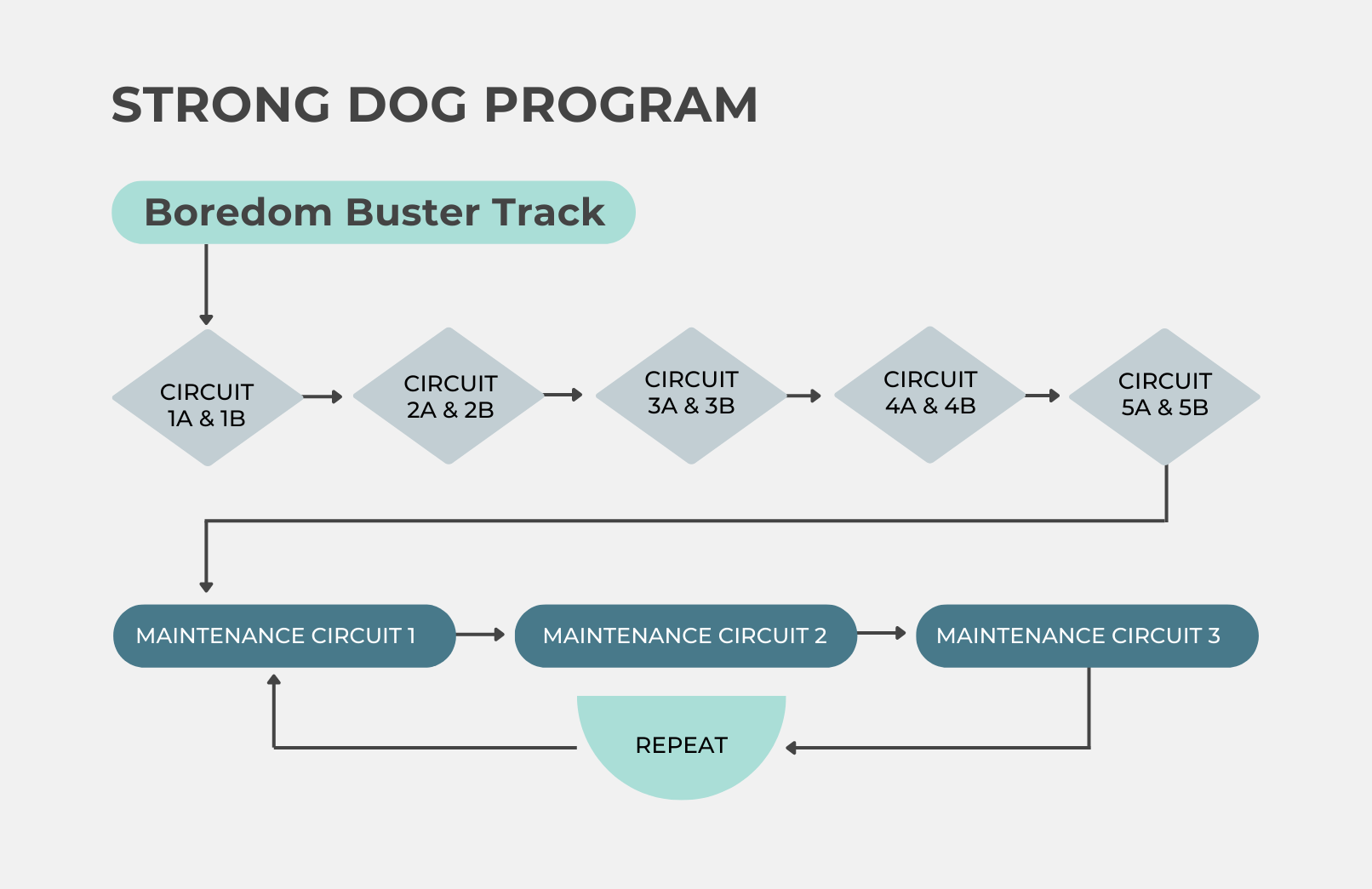 Time Saver Track
The Time Saver Track is a total body, balanced workout of 3-4 exercises to be executed 2-3 times a week. If followed to completion, this series of 9 circuits + 3 maintenance circuits will leave you with a comprehensive, ongoing workout program covering all applicable exercises on the Canine Conditioning Coach site. If you're tight on time, but still want to maintain your pup's fitness, the Time Saver Track is the one for you!
This Map shows the Track's Progression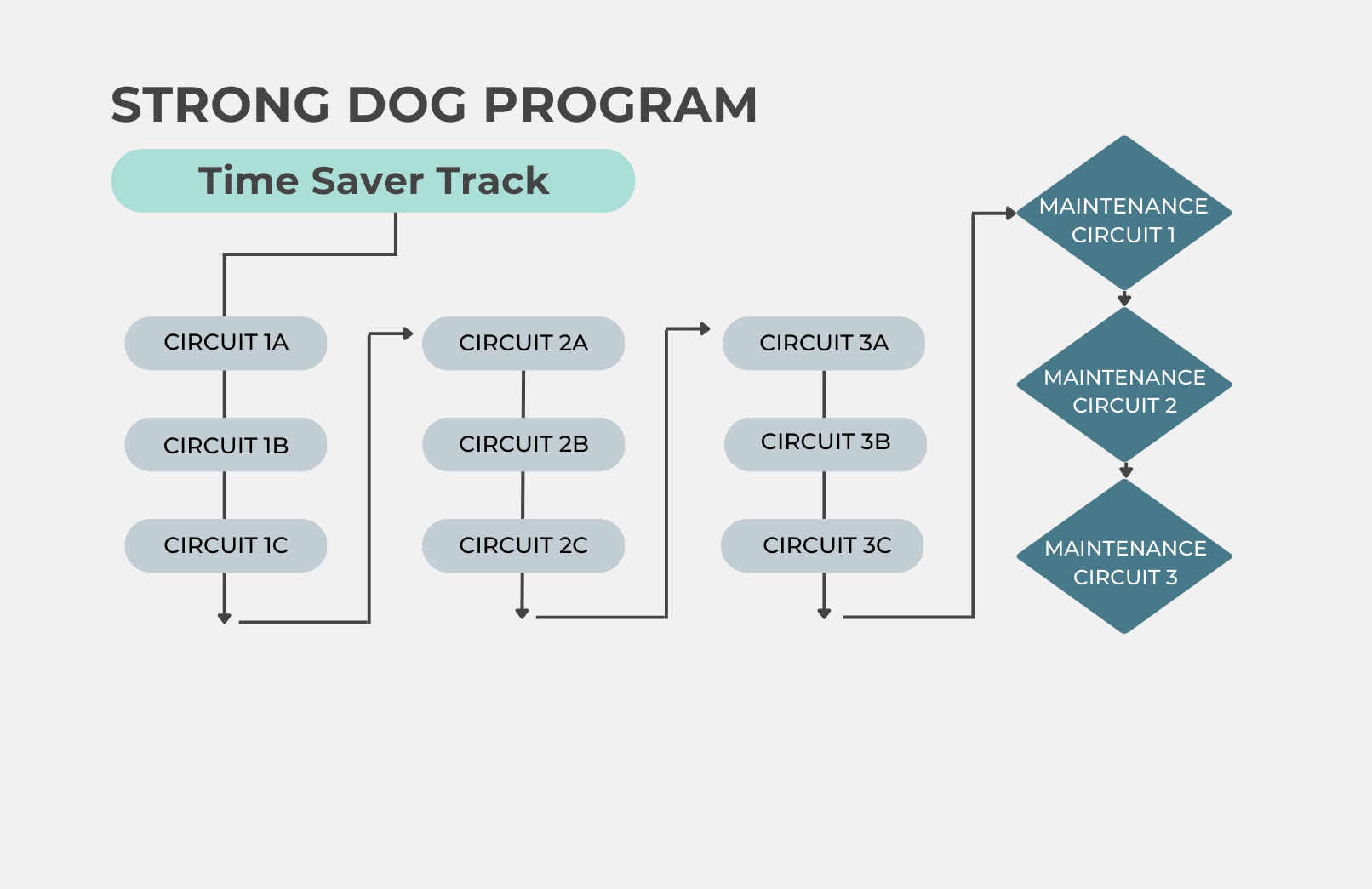 Zone Focus Track
The Zone Focus Track is specially designed to focus on specific areas that might be weak, lacking awareness or troublesome in an individual. This allows for a targeted, customized fitness approach. Each 3 circuit progression targets the Front End, Core, or Rear End respecitvely. While each individual circuit is intentionally weighted to affect a specific body part, the body is a system… So I've designed each progression so the workout is safe and balanced.
This Map shows the Track's Progression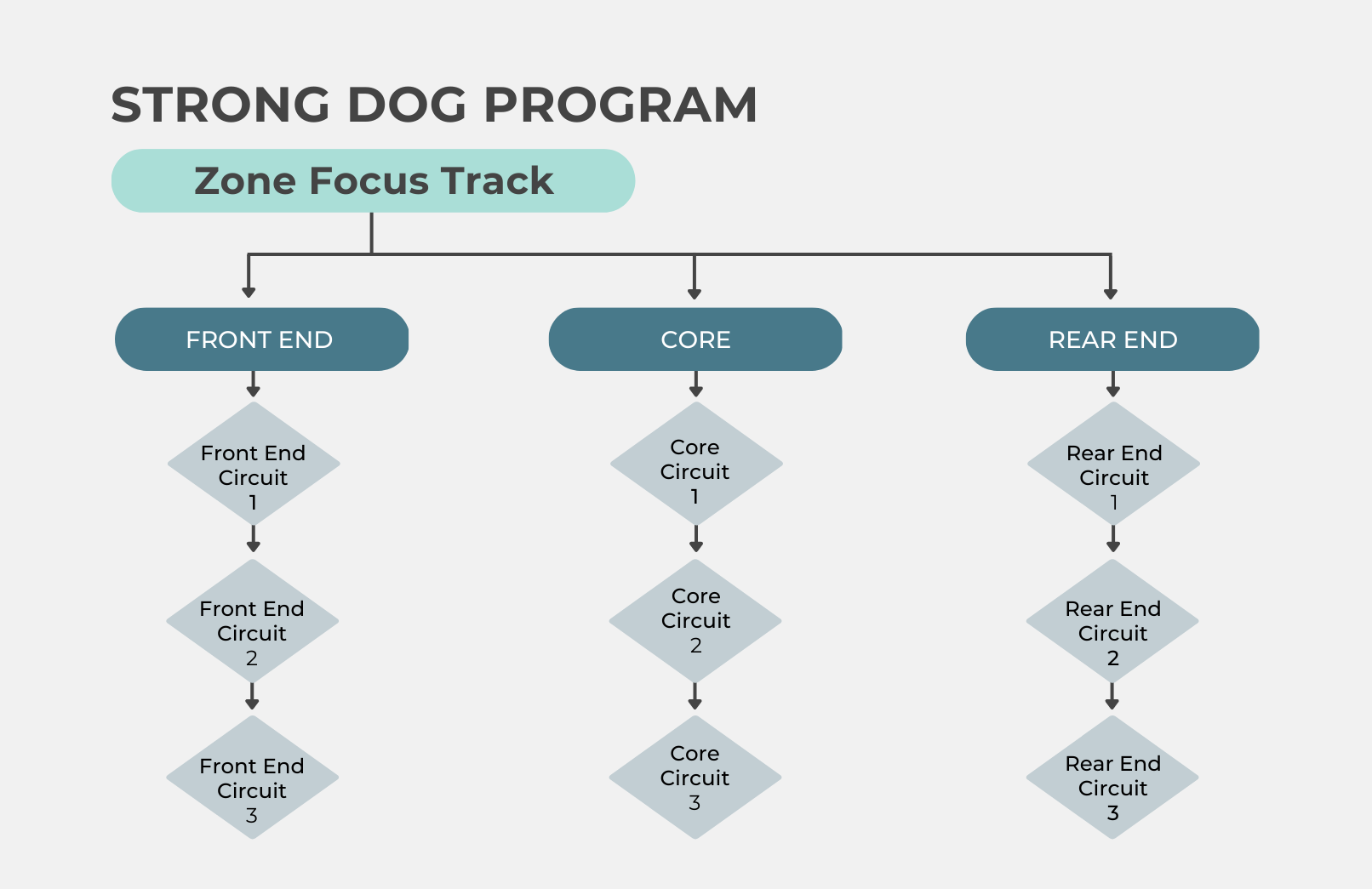 Strong Dog Exercise Circuits