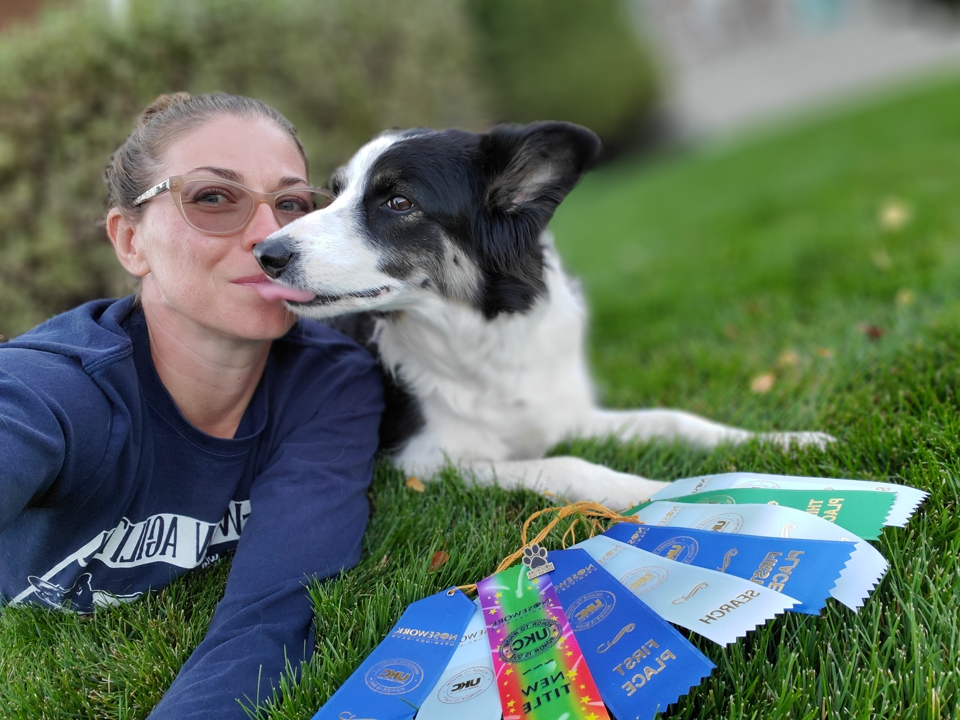 The Canine Conditioning Coach
Flipping the Canine Conditioning world on its head…
Using human exercise principles that produce neuromuscular re-education, improve sports performance and reduce injury risk, Anna Lee is looking to flip the canine conditioning world on its head.
By implementing form based exercise methodology we can improve functionality, hasten recovery time, reduce pain/stiffness, and improve the health of sport dogs and pet dogs alike… Form driving function.
About Anna Lee
CPCFT (2021)
ERYT 500 (2007)
PMA- Gold Certified Pilates Teacher (2003)
It's weird writing this about myself… I gotta say. But here's a little bit about me…
I really like to help people. For the last 20 years I've taught human fitness to people recovering from injuries or issues for whom the "standard protocol" failed. So often the standard protocol is developed for the average person, with the average experience, with the average symptoms… But what happens when you're an outlier??? You need someone who listens to your feedback, who is creative and thinks outside the box, and who is willing to progress exercises in specifically intentional increments to avoid a backslide or relapse. You need someone with extreme attention to detail, a deep understanding of physics, anatomy, physiology and biomechanics.
That person was me.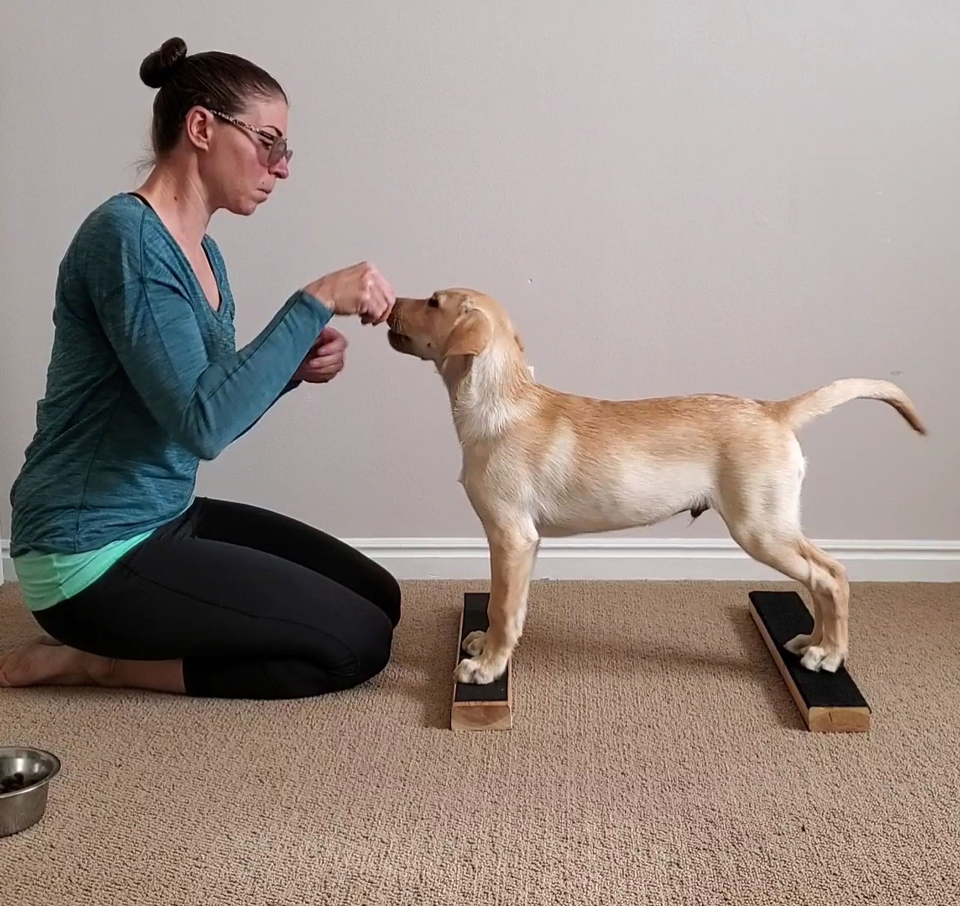 From human exercise to canine conditioning
Then in 2013, my black Lab Mr. Pickles started to change his striding on his running a-frame and I sought out a canine rehab professional. Most people said it was a "training issue", that I needed to go back to basics and retrain his frame. I didn't think so. Even then I recognized that any sudden change in behavior most likely had some physical component that needed to be addressed.
Now keep in mind, this was WAY back in the old days when this industry was just starting out. Fortunately I found Shari Zelman-Sprague, who had been a human physical therapist for her entire career, and was just transitioning into canines. Mr. Pickles was diagnosed with a mild psoas strain, and the two of us put our heads together and came up with a program that would strengthen, lengthen, and rebalance the muscles that support the injured area. Rehab took 6 months and he returned to agility, stayed sound, and earned his MACh.
When my Border Collie Hot Rod was born, I decided right away that implementing a coordination, strength and flexibility program was something that was definitely beneficial. I took a bunch of classes online and in person… But continued to fall back on my formal schooling in human exercise science. Everything in class just seemed to progress super quickly, and didn't actually TEACH the dog… It was more like the exercise was DONE TO the dog. And that just didn't sit right with me.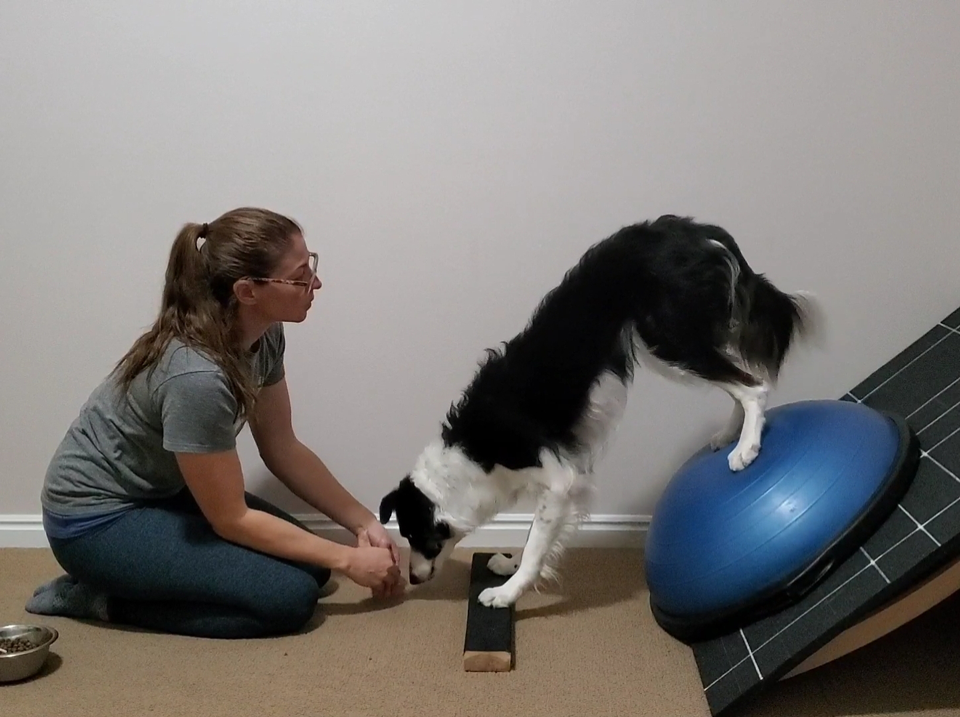 Fast forward to 2019 and the worst day of my life…
Hot Rod sustained a catastrophic rupture of her CCL at an agility seminar. She had TPLO surgery within 24 hours and started rehab with a local rehab professional… but the protocol seemed random… didn't really include teaching Hot Rod to do the exercises. Again, everything was done TO her. And it definitely did not follow the protocol or principles we would use for humans post-op.
With humans, exercise protocol always follows a proven, precise progression…
Stable before unstable.
Isolated before integrated.
Static before dynamic.
And it MUST include neuromuscular re-education.
This is where the person is INTENTIONALLY and CONSCIOUSLY moving their body.
This rehab was a lot of pushing Hot Rod around… a lot of unstable surfaces… and NOT a lot of focus on form. At 8 weeks PO we were discharged with the therapist saying Hot Rod looked AWESOME. I disagreed. I felt totally unsupported. Nobody was listening to me.
And I had spent A LOT OF MONEY.
So in 2020 I decided to take a leap of faith and embark on the adventure of becoming credentialed as a Canine Fitness Professional (CPCFT), and in April 2021, I launched Canine Conditioning Coach.
Since I've started CCC, I've worked with a wide variety of dog/handler teams across the entire spectrum of fitness and dog training skills. I've worked with several international level agility competitors, dogs with mysterious neurological conditions and dealing with paralysis, to regular pet dogs who's handlers have minimal training experience and just want to keep their dogs healthy.
I want to help those of you who have tried canine fitness and found it lacking or confusing. I want to help you learn how to implement these skills in the comfort and safety of your own home, in a space where your dog is focused, and at a time that's convenient for YOU. I want to make canine fitness approachable and AFFORDABLE. I want to teach YOU how to implement these skills… teach YOU how to assess alignment and progress exercises.
But my passion, and strongest skill set is in helping the outlier. I want to help the teams that have been told "your dog is fine" but you know in your GUTS "My dog is NOT fine!!!" I want to help teams that are struggling with muscle balance, dealing with an issue, have been discharged from rehab with a less than stellar fitness plan. I want you to feel supported. We can come up with a creative solution. I will listen to you.
Combining my experience in evidence based exercise principles in humans, with my precise dog training skills, I've made for you a comprehensive and effective strategy for building a fit, healthy, happy dog.
Join me. Together we can make this happen.