Who it's for
This program is designed specifically to meet the needs of Senior Dogs.
Length of Program
Multiple tracks ranging in length from 2 months to 9 months.
Cost
Official CCC Senior Dog Program
$199 USD for a year of access.
What's Included
20 Circuits
2 Tracks.
BONUS: Pre-Program Circuit covers all Foundation Exercises.
45 Video Tutorials
98 Pages of instruction total
PDF Download of all Circuits
Premium Features including

Priority Support
Save videos to Favorites
PDF Download of individual video pages

Access to all relavent information for 1 year
Equipment Needed
2-4 Sitting Platforms
Plyo Box, Klimb or other elevated prop
Standing Platform
2-4 PawPods » TotoFit is my preferred brand
2 Rubber feed bowls or similar stable foot targets
1 Propel Air Platforms, FitBone or disc
1 low unstable prop (wedge, disc, foam pad, etc)
6-10 Cavaletti Poles
1-2 Traffic cones or similar pylon
Cato Board, wobble board or large stable platform
Manners Minder or second handler (1 exercise only)
Program Description:
Often changes in Senior Dogs are attributed to AGE, when the actual problem is DISUSE.
The Senior Dog Program is specially designed to meet the needs of senior dogs.  This program focuses on strengthening in a reasonable range of motion, improving mobility and body awareness, and integrating movement patterns that will be helpful navigating life. All while being mindful of compressive forces and impact.
By focusing on moderate weight bearing, paying attention to alignment and staying in the mid range, we can improve strength and stability without aggravating arthritic conditions in the limbs and spine.
The mobility focused exercises concentrate on real life demands your senior dog is likely to meet. While at the same time avoiding excessive range that can unintentionally result in soreness and avoidance.
Senior Specific guidelines for modifying prop setup and reward delivery are included in the PDF instructions.
Slow and steady. We want to make sure your senior dog is comfortable throughout the entire process.
Explanation of  Tracks included in this Program
The Senior Dog Program offers 3 different ways to approach the material depending on the individual dog's needs and the goals of the dog/handler team.
Pre-Program Circuit
Depending on the experience level of the dog, some seniors may need to implement this Pre-Program Circuit to learn a few new skills before moving into the workout component of the program. The exercises included here are critical to proper execution and will familiarize your super senior with the equipment, teach them body awareness, and minimize frustration moving forward in their conditioning program.
The Senior Dog Program Pre-Program Circuit is a single circuit that covers the foundational skills needed for the Comprehensive and Zone Focus Tracks.
Comprehensive Track
This Comprehensive Track is designed using a progressive approach, where each circuit builds on the previous series. This minimizes the time spent in the "dog training phase" of each exercise. By the end of this 9 circuit progression, you will be left with 3 maintenance circuits to rotate through. The 9 circuit progression is split into 3 "chunks" to make things simpler, and more consistent. After completing this progression, you'll be left with 3 Maintenance Circuits to rotate between.
This Map shows the Track's Progression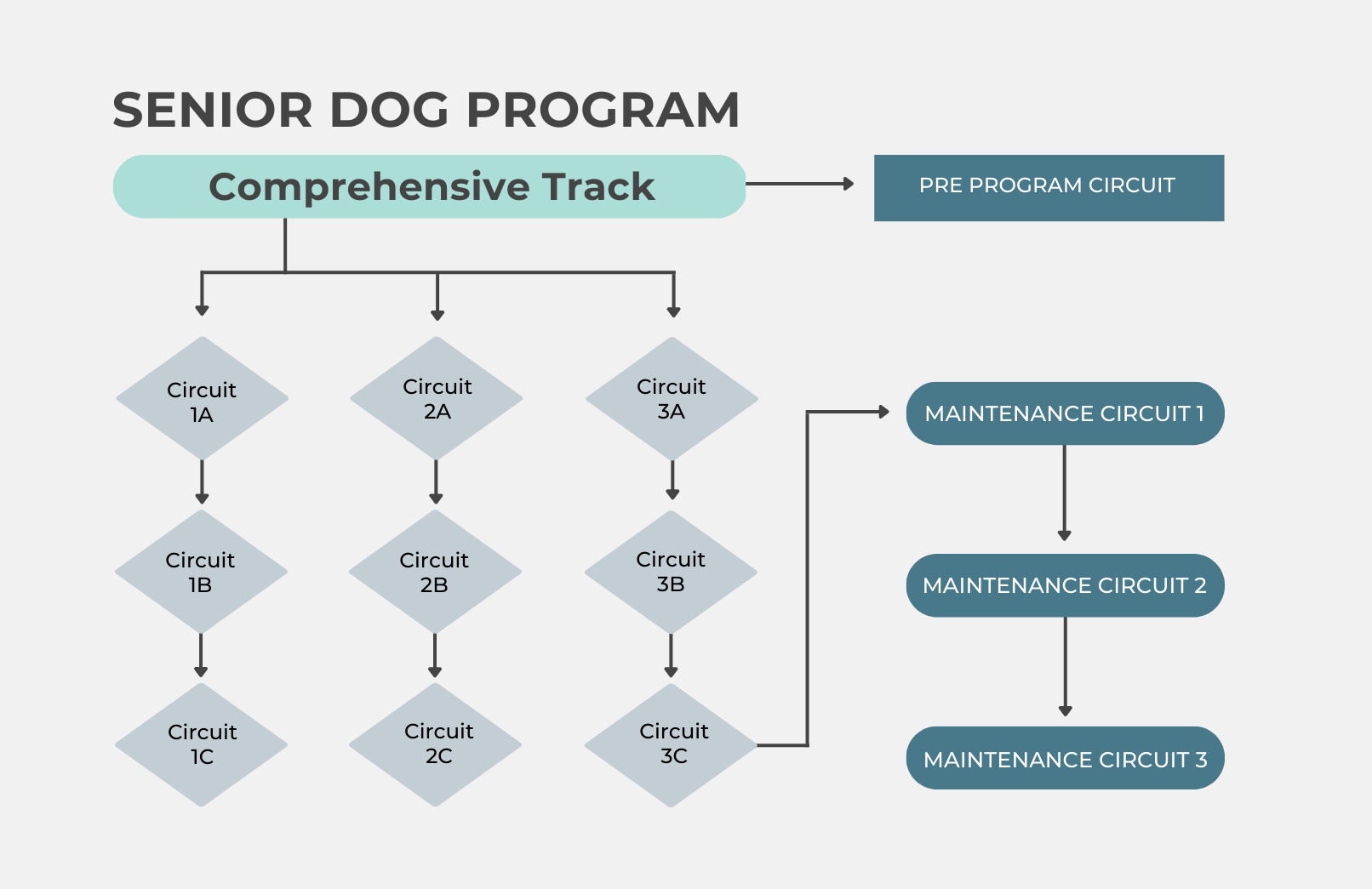 Zone Focus
If your dog is experienced or if you've completed the Comprehensive Track, and would like to focus on a specific area these Zone Focus Mini-Circuits are just for you! Special senior circuits to target…
Foot Strength
Core
Shoulders
Hip Strength
Mobility
This Map shows the Track's Progression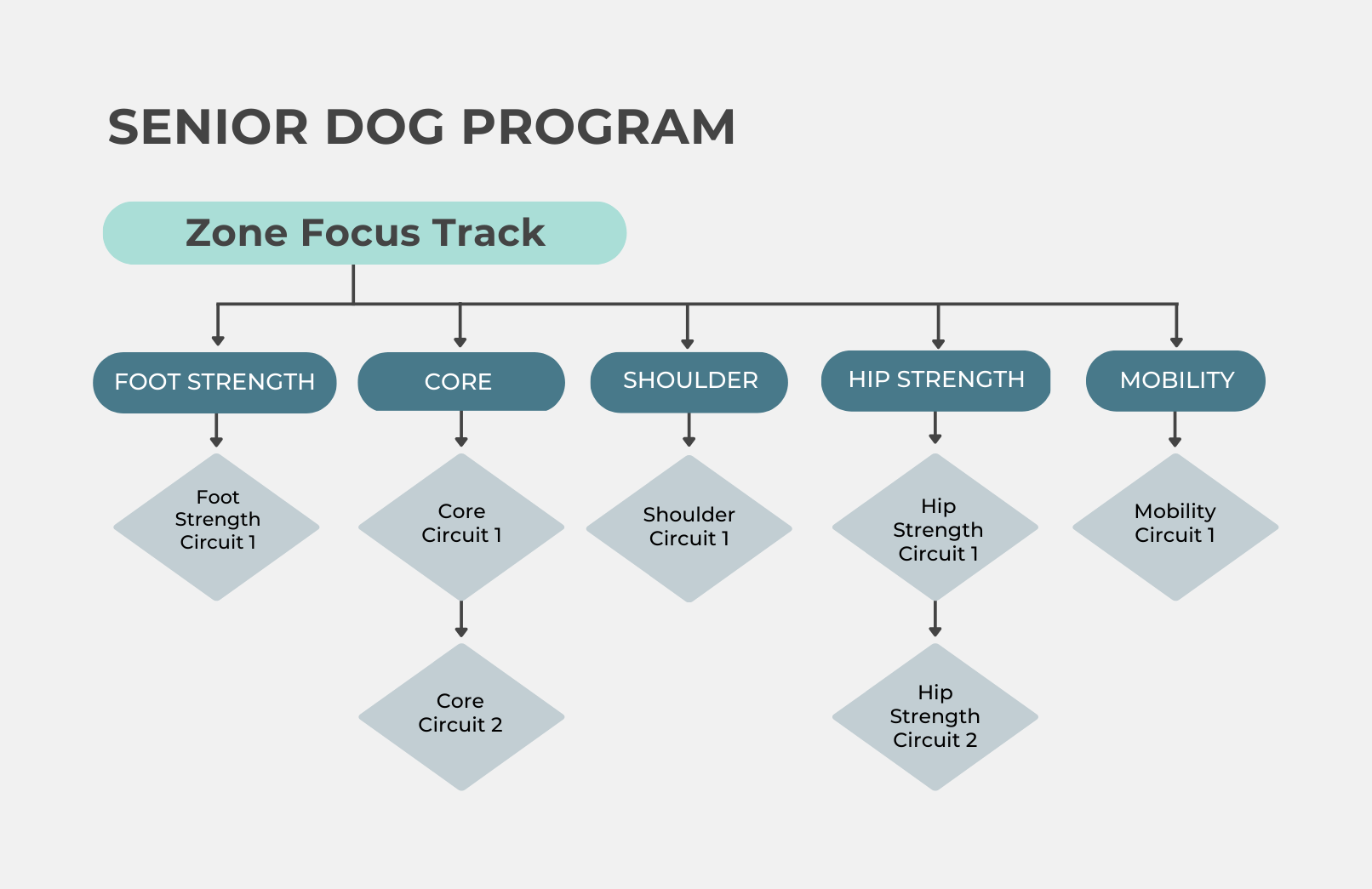 Senior Dog Exercise Circuits