In Part 1 of this three part series we discussed the the various different platform types that are commonly used in canine fitness, and what each one is good for. But measuring for platforms can be a little overwhelming if you don't know what you're measuring for. So, in part 2 of this series I will cover how to measure your dog to make sure your canine fitness platforms are the right proportions to be effective. Lastly, in part 3 of this series, I will show you how to build the platforms yourself, which is really more assembly than actual construction.
Width is KEY when measuring for platforms
Finding the right width is the most critical component for any canine fitness platform. This baseline measurement sets the proportions for your sitting platform, standing platform, foot target and balance bars. Platforms that are the same width, are easier to stack, and will be more useful when implementing your canine fitness program. This width should be approximately the width of the point of the hock.  Alternatively, the width of the hight point of the femur (upper thigh bone) should be a similar measurement, and is highlighted by the open circle. This can is easier to see sometimes with longer coated breeds. If there is a big difference in width between the point if the hick, and the high point of the femur, I take the average. Add the numbers together, and divide by 2.
If the platform is too wide, it won't encourage proper rear leg alignment. If the platform is too narrow, the pups rear toes will hang off, also promoting improper mechanics. So we're looking for the perfect "goldilocks" width. You can see this concept in action in the Posture Sit: Beginner video.
Measuring for Sitting Platforms
Sitting platforms used in canine conditioning should be the width determined above, and the length should be 1.5-2x the width. Dogs who have more rectangular conformation (longer than they are tall) will likely want the length to be closer to 2x the width. More square dogs will likely want closer to 1.5x the length. Dwarf breeds (short legs / long spine) will need extra length and should cut their platforms closer to 2.5x the width to prevent hyper flexion / roaching through the lumbar spine. So for example if my Border Collie measures 10 inches as her width… her length would be between 15-20 inches long. If I was working with a Corgi (big dog body, little legs) who's width was 10 inches, their length would be closer to 20-25″ just to make sure we were't squishing them into too small a space.
For some handlers the extra length makes moving and / or storing fitness platforms a bit difficult. This can be especially true for handlers dealing with physical limitations, or handlers with large to giant sized dogs. We always have the option of making the platform shorter (making them easier to move and store), and then butting two platforms against each other when using them for your conditioning program.
Measuring for Standing Platforms: Length Consideration
Standing platforms are the same width we used for our sitting platforms. When measuring for a standing platform, we're measuring the length of the dog from the front foot to the point of the hock, and then adding some extra 'wiggle room'.  With a LARGE Labrador sized dog I like to give 12 or so inches of extra length total. A MEDIUM Border Collie sized dog I like to give 8 extra inches. With a SMALL dog I might need 4-6 extra inches. Since this type of platform is often used in fitness exercises that are encouraging the dog to move backward or move the rear feet backward, we don't want the tolerance to be too tight. In this photo you can see Ron Burgundy (Labrador) and Hot Rod (Border Collie) on the same standing platform. Hot Rod has enough space with some extra in front and behind. Ron Burgundy on the other hand has outgrown this standing platform, and his front feet are unsupported. This is not ideal… and after shooting this video, constructed a new platform for him. To give you an example, Ron Burgundy's new standing platform is 2 inches tall x 11 inches wide x 48 inches long
Pro Tip: you can always cut some off… It's much harder to add.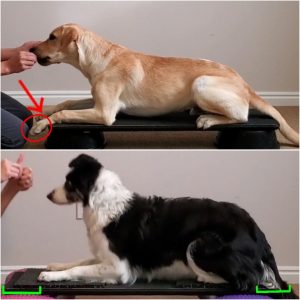 Foot Targets
Foot targets are smaller than sitting platforms. And as as we discussed in Part 1 of this series, they limit length and width, tightly controlling foot placement. Foot targets should be the same width as the other conditioning platforms we've discussed, but shorter. I like the length of the foot target to be half to three quarters the width. Since my foot targets are 11 inches wide, they're about 6 inches long. Foot targets are very useful pieces of equipment, and pack a lot of "bang for your buck". They're small, easy to adjust and easy to store. These platforms are used extensively in the beginner level to teach foot placement, and later can help refine alignment as they're easy to stack and adjust. These foot target platforms can be substituted for Balance Bars in almost any situation, especially if you work on mats, or non-carpet flooring. Please see the NOTE below.
Balance Bars: Exception to the Rule
Like anything, there's always an exception to the rule! Balance Bars are technically a variation of foot targets. Balance Bars even more tightly restrict foot placement as far as length / space between the front feet and rear feet are concerned. Because these platforms are so restrictive, I like to add EXTRA width, as not to create too much frustration in dogs that are just learning foot position. Remember "splitting is better than lumping" so I prefer to work the "length" and "width" variable separately to foster the most clear understanding in my dogs, and reduce the risk of frustration. I usually use 2×4 or 1×4 dimensional lumber for my Balance Bars. Their width can be 2x the pup's measured width. My Balance Bars are 20″ wide, and I use them for both Hot Rod and Ron Burgundy. Giant sized dogs can start with the 4 inch width, but may need to swap to a 2×6  to accommodate their giant sized paws.
NOTE: Like was covered in the Part 1 video, it is CRITICAL for the Balance Bars to be affixed to the ground to avoid the rolling risk inherent to a platform this small. I use 3M Dual Lock, which is basically industrial strength Velcro to literally attach the Balance Bars to the carpet. If you work on mats or other non-carpet flooring, foot targets might be a better option to avoid the rolling inherent in Balance Bars.
How tall should these platforms be?
That's a good question. They need to be tall enough that when the dog steps off, or unintentionally has a foot slip off a platform, they notice. The whole reason we're using these platforms for our fitness work is to teach the dog where their feet / legs are and where they should be. So if the platform is too short it will "blend into the ground" not giving the dog enough information. Conversely, if the platform is too tall, the dog may be unintentionally presented with a barrier that prevents the easy correction of a misaligned limb. Also, the taller the platform, the more likely it is to tip or flip. And that's no good. For medium to giant sized dogs I find 1.5-2 inches is a good "Goldilocks" height. High enough to help provide a clear boundary the dog needs to stay within, but low enough the tipping / flipping risk is small to none. Tiny dogs might do better with 1 inch tall.
So to sumarize…
When measuring for ALL platforms, the key measurement is width. That is easiest measured from behind and is the distance between the point of the hocks.
Sitting platform length is 1.5 to 2.5 x the individual dog's width depending on whether the dog has a more square build, a more rectangular build, or is a dwarf breed / long backed.
Standing platforms are the same width as sitting platforms, but long enough that the dog can lie down with the front feet and hocks fully supported, plus some extra.
Foot Targets are the same width, and the length is approximately 1/2 to 3/4 the width measurement.
Balance Bars are the exception to the rule, and are double the width to accommodate their lack of length.
Of course these are just suggestions. Every dog will need a slight adjustment to the formula. This is why if possible, I like to bring my dog with me to the local hardware store, and have them sit on a bunch of planks to make sure I get a good fit!! More on that in Part 3!!