What's Included in our All-Access Membership?
The All-Access Membership gives you access to ALL of the Programs, Mini-Programs, and Videos available from Canine Conditioning Coach!
Here's a high level overview.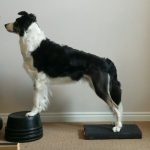 Post TPLO Mini-Program
Fitness for dogs recovering from a TPLO. After bone healing.
Plus any other videos & future programs!
Details of our All-Access Membership
Is our all-access membership right for you?
» If you're a handler looking to build functional strength to improve your pups' stability, mobility and coordination  both in the short term, and for long term health and wellbeing, this is the membership for you.
» An All-Access membership includes access to every single thing on the Canine Conditioning Coach Site. Including all 5 Comprehensive Programs, and all 4 targeted Mini-Programs. You'll also gain access to all Video Tutorials, including Specialty Videos that are not included in the program material, as well as any new videos that are added to the site — before anyone else!
» If you have already purchased a program, but want more, you can upgrade to All-Access at a prorated rate! So you won't be out any money!
» As I update the programming to include more offerings, if you're an All-Access member, you'll gain access to that as well!
» Whether you're owned by a single dog looking to move through multiple programs, or are owned by multiple pups in different life stages, I have created a set of programs to meet all your pup's needs. Start your pup out right with the Puppy or Beginner Program, then work on higher level skills with the Strong Dog or Sport Dog Program. After spay or breeding, get your girl back into shape with the Post Spay and Postnatal Programs.
» And don't forget your Senior Pups! They deserve relief from arthritic changes and muscle weakness that a specially designed conditioning program can provide.
» Since all the Programs use the same foundation exercises, and progression methodology, you only have to train yourself and your pup(s) once. And that training can be applied to all exercises, across all Programs and Mini-Programs.
» Developing a strong, supple, balanced dog takes time. So if you're committed to making long term changes this is the right choice for you.
Who it's for
Handlers with one or  multiple dogs
Looking to make long-term fitness a priority
Growing puppies and young dogs with changing bodies
Sport Dogs, Working Dogs, and Pet Dogs
People looking for a comprehensive fitness program and method that can be easily transferred into multiple life stages, and specialty needs.
Length of Program
Multiple tracks to meet your dog's specific needs ranging from 2 month targeted Mini-Programs to full Comprehensive Programs covering a full year of material.
Cost
Official CCC All-Access Membership
$399 for a year of access
Over $900 in SAVINGS vs buying each component individually.
Membership is "per handler" not "per dog", so you can improve the fitness of all your pups with one membership fee!
If you're a professional in the canine rehab  or fitness industry, shoot me an email. I have a special rate just for you!
What's Included
Every single thing on the CCC Site
Over 100 Video Tutorials
5 Comprehensive Programs
4 Targeted Mini-Programs
151 Circuits and counting
If anything new is added to the site during your membership, you'll gain access to that too!
Additional Benefits of All-Access
Access to specialty videos not included in the Programs
PDF Download of all Circuits
Premium Features including

Priority Support
Save videos to Favorites
PDF Download of individual video pages

14 day money back guarantee
Access to all material for 1 year