Purpose: This  exercise continues to teach rear end awareness, by asking the pup to keep their rear feet still while transitioning from the sit to a stand position. Later this Rock Back Sit – Push Forward Stand exercise will become a dynamic strengthening exercise, as we continue to increase the height of the front foot target which can be seen in the Intermediate level variation. But for now the focus is on teaching/rewarding form.
Equipment: Sitting Platform, Raised Foot Target
NOTE: If teaching this to a large or grown dog it may be necessary to use a slightly higher front foot target (closer to elbow height). If the space between the Front Foot Target and Sitting Platform is too long, the dog might not be able to comfortably step into position. Using a slightly higher front foot target can solve the problem. This may be something you need to play with / customize to the individual.
Targets: This exercise continues reinforcing the concepts introduced in the Rock Back Sit- Push Forward Stand: Foundation variation of this exercise…
Engagement of the hip stabilizers to keep the sit square/hocks parallel

Engagement of the rear leg muscles (gluteals, hamstrings, quads) while loading into the rear

Teaching proprioceptive awareness, specifically of the rear end, and building value to keeping the rear feet still.
This graphic demonstrates the handler motion, and placement of reward used to generate the correct movement pattern from the dog. We want the stifle to be bending as the dog steps the front feet backward (third photo) vs stepping the front feet backward onto the sitting platform, and then bending the stifle.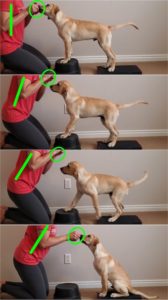 Watchpoints:
Adding a bit of height to the front end, shifts this exercise from foundation to beginner. Watching for a square sit (hocks

parallel

), a square stand (hocks

vertical

), and keeping rear feet still during the concentric phase (loading phase from sit to stand) are my main goals/watchpoints for this exercise at this stage. This is controlled by prop set up and placement of reward.  Later, I would also look to keep the rear feet still during the eccentric phase (releasing phase from stand to sit). 

 In general,

the eccentric phase requires significantly more motor control

, so first things first. Once the concentric phase is fluent, we can start expecting criteria to be maintained during the eccentric.

Watch for signs of fatigue! Especially in  young dogs, older dogs, or dogs new to formal conditioning. This stuff is hard… So I detailed that in the video as well and give you the chance to see if you could catch them, before I point them out.