Purpose: The Rock Back Sit-Modification is an intermediary step some dogs need in order to learn proper mechanics when transitioning from the Stand position to the Sit. Instead of bending the stifle (knee) during this transition, engaging the quadriceps eccentrically, some dogs will incorrectly bring both front feet down onto the Sitting Platform, and then transition into the Sit Position. This is usually because the quadriceps or hamstrings are a bit weak, or lack the coordination to engage eccentrically (slowly lengthening in a controlled manner). So this modification is intended to teach the coordination component, while also increasing the strength / weight challenge in very small increments.
NOTE: The photo below shows the difference between proper mechanics where Ron Burgundy flexes the stifle, and the hock is grounded before the second front foot comes down) vs incorrect mechanics where Meg brings both front feet down BEFORE flexing the stifle. Correct mechanics can also be seen in the Rock Back Sit: Beginner video.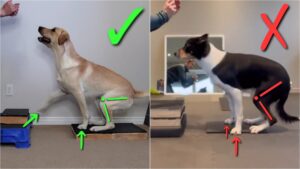 Equipment: 1 Sitting Platform + 1 Balance Bar, or 2 Sitting Platforms to start.
Targets: This exercise specifically targets the distal quadriceps that cross the stifle joint, along with the proximal hamstring that crosses the hip joint. Both of these muscle groups will be working eccentrically (lengthening) during the phase of the movement that is typically considered the most challenging.
NOTE: In the initial start position, we are intentionally allowing the dogs feet to remain on the floor. This accomplishes two things…

By having the front feet begin lower than the rear feet, weight is shifted out of the rear / into the front. This reduces the load in the rear limbs, making the challenge more manageable for dogs who are struggling with this type of movement pattern.
Leaving the front feet on the ground during the Rock Back Sit Modification also changes the alignment of the spine to promote more neutrality through the lumbar and pelvis. This is covered in the video.
Watchpoints: 
It is critical to begin the Rock Back Sit Modification with the rear end slightly elevated on an angled platform. This prop setup lessens the load in the rear, and changes the mechanics of the hip, stifle, making the eccentric phase easier to execute correctly.
When raising the height of the front foot target, it is important to do so in very small increments to preserve proper mechanics through the rear end.
Raising the height of the front foot target too quickly will result in the dog reverting to their old / incorrect mechanics.
Remember, the stifle should be significantly flexed, and the metatarsus (hock) completely grounded BEFORE the second front foot comes down.