Purpose: Hiccup is a functional core strengthening exercise, and a safe alternative to Sit Pretty.
NOTE: This video demonstrates the Intermediate, Advanced and Expert level progression together. So if you are following an Intermediate or Expert link from a CCC Program, and you find yourself here, you're in the right place!
Equipment: Sitting Platform, 2 rubber bowls or other raised foot targets.
Targets: In the full version of this exercise (demonstrated at the end of the video), the dog is asked to use their core muscles to lift the forelimbs up onto an elevated platform, while simultaneously moving from a stand, into a square sit.
This movement requires a significant engagement and coordination through the epaxial muscles (back muscles), hypaxial muscles (muscles on the belly side of the spine, particularly the iliopsoas), and the abdominal muscles. This bracing action of the three main components of the "core" (along with the shoulder stabilizers, hip stabilizers and pelvic floor muscles) provides a functional option for core strengthening without the risk factors associated with "Sit Pretty".
Steps: This video breaks down "Hiccup" into component pieces.
The Intermediate Butt Up Stand: Intermediate

movement through the pelvic limbs.

The Advanced more integrated movement where the rear and front limbs both move.
The Expert level,  fully integrated movement, fluently combining the two pieces into a single fluid movement.
This graphic shows the Intermediate variation or Butt Up Stand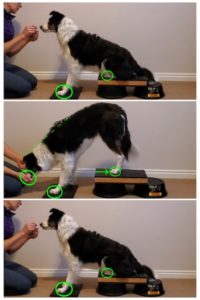 This graphic shows the Advanced variation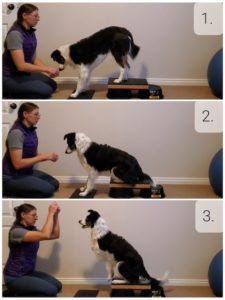 Please complete both of these steps as outlined in your Program PDF before moving into the full Expert level variation.
Watchpoints: Maintaining proper alignment through the pelvic limbs is critical in this exercise.
During the

first variation

, we're looking for the rear feet to stay mostly still and the stifle to extend (the rear feet will move backward slightly during the transition to stand, and slightly forward during the transition to sit). Creating more of an upward movement than a

big

kick back. This precision promotes mobility through the hamstring, promoting hip flexion and minimizing lumbar flexion.

In the

second variation

, the stifle/femur must stay in alignment without rotating internally or externally, and should be fluent/automatic before moving to the fully integrated exercise in variation three.

Care should be taken to limit repetitions of the fully integrated Expert level variation in the beginning as this is a VERY taxing exercise, on muscles that have a tendency to be very weak/lacking endurance. 1 set of 5 reps every 3 days is a good starting point until tolerance is established.